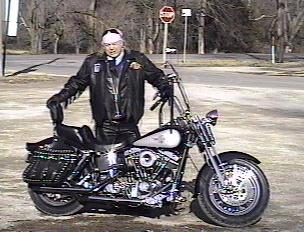 Hi my name is DaddyDawg & you can
APPLY For an Award for your Web Site HERE!!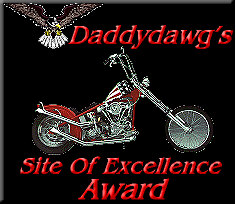 You must have on your Site to apply:
1. Pic of you
2. Pic of your Bike
3. Biker info on Page or Site


Note: Site must be of good design & content.

Now just put Award in subject line on an E-MAIL with your Page or Site Addy for review.

To Apply Click Here





BELOW ARE THE RECIPIENTS OF THE DADDYDAWG'S BIKER SITE OF EXCELLENCE AWARD

SHOW US YOUR STUFF






PureHarley's
Popclutch1
IRON HEAD1000
Lance1340
hdshiftyman
Mountainman
HarleyDude
Biker Bob
EasyRider's
Florida Renegade
Hersey Hangout
LadyRenegade
Ferraroart
Harley 2000
Biker Bill's
Hatchett
Cyber Biker
Hunter at the Hog Barn
HarleyBikers
Seven Sin M/C
Crystals Place
FatBoy
BoyDawg
R.V'S
Gypsy M/C
Flash
Biker Bill
LOBO's
Max 10
Iron_Horses_1941
Devineswine
Socialsquad
Site-Engels
Loners M/C
Cube
Beck's
NyOutLaw
DOMBO
Injured Bikers
Hanse Biker
images-by-dave
Panhead RockZ
vulcan800
Juicy Biker
VCD
Fat Dads
Street Dragons
The Wizard
Suds & Butterfly
Team Freedom's Harley Racing Drags
Honda Lady
Spikes World
Team Freedom
Nessa's Biker Page
Acciriders MC
Tom's M C pic's & Trips
Biker Poet Tree
Ron's Harley Pic's
Amos Storm's website
Outlaws World
Harleys Swap Meet
Bammo Bunker & Biker Sites
Can't Stop Racing
Madd Lands
Druide-Horley
Shakey Biker Site
Heim Racing
USA Cycle
Dianes Bikers-Buzz Site

WILL BE UPDATED AS SOON AS BIKER POSSIBLE

Keep it between the lines!